UBS currently sees little hope for Credit Suisse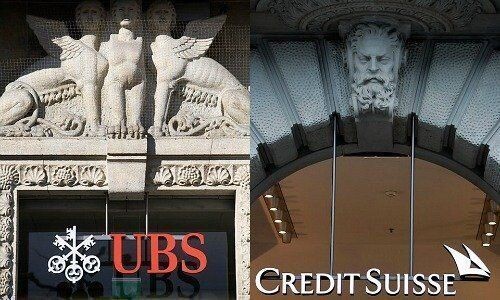 The two big Swiss banks are generally cautious about each other's stock ratings. But for now, UBS sees little potential in its rival.
Shares of Credit Suisse have continued to fall in value and are now trading just above 7 francs ($7.30) after warning earlier this week that it would report a loss in the first quarter. There is no indication that the stock will recover in the foreseeable future, especially after the CEO Thomas Gotstein called 2022 a "year of transition". Now many banking analysts seem to share the same view.
British investment bank Barclays on Thursday lowered its price target for Credit Suisse shares from 7.50 francs to 7.00 francs, with its banking specialist, Amit Goelcalling the stock "underweight", which can ultimately be interpreted as a sell recommendation.
Decisive role in the formation of the Swiss financial center
Banking analyst UBS Daniele Brupbacher was a little less harsh on its employer rival, giving Credit Suisse shares a year-over-year price target of 7.40 francs and calling the stock "neutral" at the start of the week. So while he doesn't advise selling, he advises against buying even at such a low price.
When the two big Swiss banks rate each other, they generally do so cautiously. While they are ultimately competitors, they also play a decisive role in shaping the Swiss financial centre. And no one is interested in having just one big bank in the future.
In an interview earlier this year, the CEO of UBS Ralph Hammer says that "it's never a good thing when a competitor has problems", because the reputation of all banks suffers, because finenews.com reported.
Do not repaint the Sistine Chapel
For decades the business models of UBS and CS were quite similar, but have diverged over the past decade. UBS did not find it necessary to repaint, but simply to touch up its "model of success", as the former chairman of UBS Axel Weber liked to say. Credit Suisse has worked for years to get a fresh start without success, and scandal after scandal has beleaguered the bank.
This is reflected in the development of Credit Suisse's share price and in the corresponding ratings of UBS. The last time UBS banking analyst Brupbacher gave its rival stocks a "buy" rating was in April last year. At that time, the share was trading at 9.73 francs and UBS had formulated a target price of 10.80 francs.
One financial center – two business models
In December 2021, UBS downgraded the shares of Credit Suisse to "neutral", mainly because of the continuing turbulence surrounding the Greensill funds and the Archegos hedge fund, but also because the then chairman António Horta-Osorio failed to give the bank a credible new strategy. UBS's target price for Credit Suisse shares was 9.30 francs, lowered again in February to 8.50 francs and now at 7.50.
It's very clear. From now on, there will indeed be a financial center – two economic models – and the two competitors will open up new capital in Swiss banking history. As UBS steps down, Credit Suisse will be hard pressed to avoid announcing personnel changes when it presents its quarterly figures next Wednesday. This is the only real way to credibly offer the prospect of a new beginning.