Raleigh alumni prepare to hike to raise money for charity – The Royal Gazette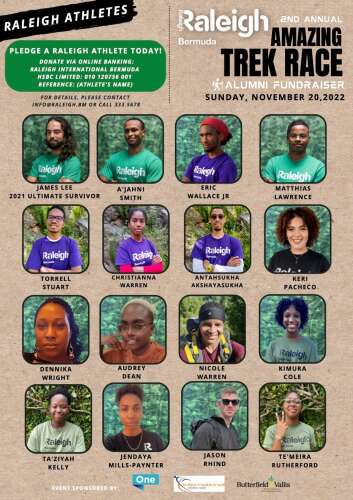 Created: Nov 16, 2022 10:15 a.m.
Raleigh Bermuda alumni will participate in a fundraiser this Sunday (Image provided)
Raleigh Bermuda alumni join forces for a hike to raise money for the charity.
And a former participant, Jason Rhind, will participate remotely from the war-torn Ukraine where he is. provide humanitarian aid.
The second annual Alumni Trek race is due to take place on Sunday and will see 16 athletes from Raleigh compete on three backpacking routes of up to 24 kilometers.
They will start at Dockyard at 10:00 a.m. and go through different levels of hiking – beginner, intermediate and advanced – before finishing the course at Raleigh's headquarters in Pembroke around 2:30 p.m.
A Raleigh spokeswoman said: "The event will conclude in Raleigh with the arrival of advanced hikers and all race participants.
"The Raleigh Winners Celebration will be a private event, but Raleigh is asking everyone in the community to cheer and support our athletes from the streets and lawns of their homes.
"Raleigh athletes will be accepting pledges and donations from the community for this fundraiser.
"Raleigh Bermuda is known for its adventurous survival training camps and overseas expeditions.
"Young Bermudians who join the Raleigh Adventurers Program are trained locally in an intensive survival skills-based curriculum, then have the opportunity to go overseas and be challenged to climb mountains, to travel jungles and rivers and carry out international and community projects."
The Raleigh 2022 athletes are: James Lee [the 2021 Ultimate Survivor Winner]; A'Jahni Smith, Eric Wallace Jr; Torrell Stuart; Christianna Warren; Antahsukha Akshayasukha; Keri Pacheco; Dennika Wright; Audrey Doyen; Nicole Warren; Mathias Laurent; Te'Meira Rutherford; Jedaya Mills-Paynter; and Ta'Ziyah Kelly.
Donations or race pledges can be made via online banking at HSBC account #: 010120756001, [reference athlete's name for pledges]or on P-Tix at: https://www.ptix.bm/Event/560/Raleigh-Bermuda-Donation-Page/
The event is sponsored and supported by International Sports Shop, Butterfield & Vallis and One Communications.
For more information, contact [email protected] or call 333-5678.