nVent stock undervalued despite margin leverage challenges (NYSE:NVT)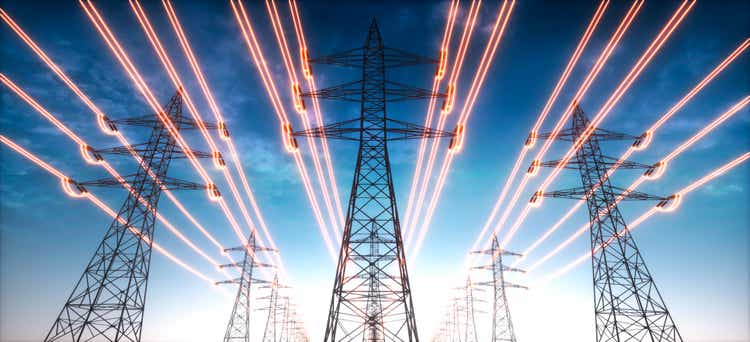 I called nWind (NVT) a "borderline buy" call in my last article on this maker of electrical and thermal products, and the stock price performance has been pretty consistent with that view – the performance since then was not great in absolute terms (up about 3%), but equities outperformed the broader industrial sector and competitors like eaton (ETN) and Hubbell (HUBB). Along the way, the company achieved exceptional organic growth through strong pricing, although the incremental margins weren't as impressive.
I have to admit that my take on nVent is still along the lines of "yeah, they're fine, I guess", and that's not the most helpful piece of advice for readers. I like nVent's leverage to improve industrial activity (including industrial construction) and electrification, as well as improving offshore and midstream energy activity. I also see some flexibility in the balance sheet to make trades, and my valuation models indicate that these stocks offer above-average potential, so I am reluctantly more positive on these stocks.
Strength almost everywhere
nVent is enjoying strong or improving demand in nearly every major market category it serves, as not only are companies in a wide range of industrial end markets doing their best to meet demand, but it continues there will be continued capacity investments in industrial and logistics sites, as well as investments in automation (which typically requires upgrades to electrical infrastructure).
It will not surprise my regular readers that nVent has highlighted the strength of markets such as food/beverage, material handling and data centers; these markets have been strong for a host of investment providers like ABB (ABB), eaton (AND N), Hubbell (HUB), Rockwell (ROK), and so on. The strength in automotive was more interesting to me given the widely publicized challenges with component shortages, but is what automation vendors like ABB, Fanuc (OTCPK: FANUY), and Yaskawa (OTCPK: YASKY) talked about ongoing investments in production capacity (especially electric vehicles).
The utility market also remains strong for nVent, with nVent and Hubbell benefiting from continued investment in network reinforcement. Looking a bit, aerospace is already starting to pick up, and nVent is also being leveraged to improve activity in the energy sector, especially on the MRO side, as companies look to ramp up production but are reluctant to engage in significant new investment projects.
Margin leverage proves more difficult
The overall industry theme this quarter has been strong revenue growth but little incremental margin leverage, and nVent accounted for that in spades for its fourth quarter. Organic revenue growth of 24% (following 20% ​​growth in the third quarter) was well above the norm, but an additional 15% margin was nothing out of the ordinary, and while nVent was showing a strong growth in turnover (10% compared to average Street), the operating result was only in line.
This low leverage comes despite strong pricing power, with pricing adding 12% to growth in Q4 and expected to remain a significant positive driver in 2022 (around +4% to +5%). Management believes, however, that there will be a better balance between price and cost inflation in 2022, particularly in the second half, as cost pressures ease.
I would call it a "we'll see"; nVent isn't the only company looking for significant improvement in margin leverage in the second half, but I'm not so confident there will be such a significant easing of pricing pressure. That said, I think Q4'21 and Q1'22 will be the worst for margins, with a return to mid-teen margins in 2H'22 and better margin leverage in FY'23 and FY '24.
Growth is a clear priority
While I don't mean to suggest that nVent ignore operational efficiency, it seems clear from management feedback over the past several quarters that improving growth is the top priority these days, and I m I would expect this growth to come from both organic sources and mergers and acquisitions. .
Organically, the company has been busy on the new product development front, launching nearly 60 new products in 2021 that added about 150 basis points to revenue growth. For 2022, management is looking at around 50 new products to add around 100 basis points to the revenue growth rate.
Management has also put in place a new business team for data networks (data centers), and I expect this to remain a key focus area. Given increasing heat densities and the growing need for efficient power supplies and advanced cooling systems, I see many opportunities for innovation and mergers and acquisitions in this space. I would say the same of grid reinforcement and modernization, an area targeted by the new infrastructure bill, and I would expect additional product development opportunities that take advantage of ongoing investments in the electrification in industrial and non-residential markets.
As far as mergers and acquisitions are concerned, management is actively researching, with targeted areas such as data centers, utilities, BT power connections and smart infrastructure. Although nVent doesn't have the financial resources to go too crazy with mergers and acquisitions, they can still add significant revenue without weighing too much on the balance sheet.
Perspectives
I expect fairly strong revenue growth in FY22 (up 8%), with growth slowing towards 5% over the next five years and towards 3% to 4% over long term. I don't expect a lot of EBITDA or operating margin leverage in FY22, but I do expect margins to improve in FY23, with an improvement around 100 basis points of EBITDA margin from FY21/22 to FY24. I still expect FCF margins to slowly transition from mid-teens to mid-teens adolescence over time, supporting a high single-digit FCF growth rate.
Based on my short-term expectations for margins and returns (ROIC, ROTA, et al), I believe a forward EBITDA multiple of 13.25x is appropriate, supporting short-term fair value. term of about $30, while my discounted cash flow model suggests better than 10% short-term undervaluation and a long-term total annual potential return of about 10%.
The essential
While nVent doesn't really have the product exposures I want, I can't argue with the recent revenue results, nor the strategic decisions to focus on opportunities in areas such as Data Centers, Utilities electricity and smart infrastructure that I think can better drive growth in the years to come. In what may well be one of the most reluctant buy calls I've made, I have to trust my models, and this looks like a stock that could outperform the industrial sector and the broader market.