Itau Unibanco: underestimated leverage for higher rates and strong loan demand (ITUB)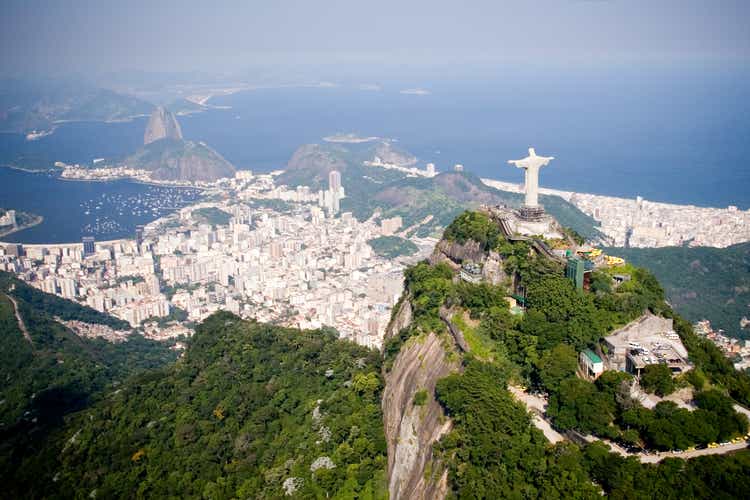 We are going through interesting times for the global economy, with many countries already seeing challenges to their post-pandemic recovery even before the recent spike in oil prices. In Brazil, while sectors like construction have been fairly healthy, GDP is expected to slow from 5% growth in 2021 to 1% to 2% in 2022 and 2023, and industrial production has been contracting for several months, with the latest reading still below pre-pandemic levels.
What is interesting for an economy is often interesting for its banks, and therefore also with Itau Unibanco (ITUB). Recent trends here have been quite positive, and management hasn't been shy about heading for strong growth in 2022, but the market isn't buying that outlook right now.
Itau has rarely been my favorite bank in Latin America, but I liked stocks in March last year on what I thought were undervalued recovery prospects. ADRs have since generated a return of over 25%, outperforming other Brazilian banks like Santander Bank Brazil (BSBR) and Bradesco (BBD), as well as LatAm options like Bank of Chile (BCH), Bancolombia (IPC), creditcorp (BAP). This performance carries an asterisk, however, as local equities were not as strong, falling around 10% and lagging BOVESPA.
At this point, these stocks look undervalued, but I am concerned about the risk of revisions in management and sell-side expectations for the year. Again, that risk is mitigated by the fact that the street really doesn't seem to believe those numbers now anyway.
Can they hit the mark?
In the years I've followed Itau, I've generally felt that management too often takes an overly optimistic view of its prospects. That said, management's forecast over the past four non-pandemic years has not been bad with a track record of about 50/50 to meet or exceed initial expectations for the year.
Itau expects a good year in 2022. For starters, the bank expects strong loan growth. 15% growth for all of 2022. Bradesco's outlook is not dramatically different, with the bank seeking growth of 10% to 14%.
Itau is also benefiting from higher rates, and rates have risen in Brazil as the central bank attempts to control inflation. Itau has significant exposure to areas such as card loans and revolving lines of credit, where not only is there better rate sensitivity for Itau, but there is also growing demand from end users. With that, management expects an impressive 21% to 24% year-over-year increase in net interest income with customers.
However, hitting those numbers might prove difficult now. This direction was given before the Russian invasion of Ukraine, and I have some concerns about the impact of this event on the world economy in 2022 and 2023 (in particular by the increase in energy prices) . In addition to this, there were already other challenges in the Brazilian economy, such as the aforementioned weakness in industrial production and a weaker agricultural sector due to unfavorable weather conditions.
Similarly, I'm not convinced of Itau's ability to achieve management's long-term goal of 20% "sustainable" ROE. I think the company will rebuild its capital for a few years to increase the CET 1 ratio and compensate for an increase in risk-weighted assets (due to loan growth). I also see growing competition from non-bank fintechs taking away some of Itau's higher-margin consumer revenue over time.
With that, I think 20% is more likely to be a high point than an achievable year-over-year goal. Looking at the bullish counter-argument, however, I will note that Itau invests considerable resources in its own digital capabilities and may well prove that it can "fight fire with fire" and stand up to more serious competition in the computer-focused fintech space. .
Credit improvement may be underestimated
One area where I am not concerned about Itau is the line of credit. Although the non-performing loan ratio increased year-over-year in the fourth quarter and there are likely to be more write-offs in 2022, the NPL formation ratio is declining and the bank still has strong reserves per compared to bad debts (241% coverage of bad debts in the fourth quarter). Also, while provisions will likely increase in 2022, I think this needs to be seen in the context of strong loan growth.
Opportunities outside of Brazil may be underestimated
Itau is a very Brazilian bank, with 85% of its lending in Brazil and 90% of its operating income generated there, but I think the market may still be underestimating some of the growth opportunities outside of Brazil.
Paraguay and Uruguay are small operations in the grand scheme, but they generate good returns. In Argentina, Itau is primarily focused on corporate lending and treasury, while also investing to create an independent digital bank. Management also continues to invest in Chile and Colombia, with the aim of achieving greater scale.
One area where Itau seems content to sit still is Mexico, with management saying it is interested in acquiring Citigroup's (C) Banamex operations in this country.
Perspectives
My feelings on Itau today are essentially that management is managing the business well and has attractive growth opportunities, but the macro challenges may be underestimated at this time and may pose the biggest risk to the guidance. Yet even when I use what appear to be conservative assumptions about management guidance and sell-side averages, stocks end up looking undervalued.
My modeling data generates a long-term base earnings growth rate of 7% to 8%. Even if the dividend payout ratio increases significantly over the next decade, I don't think an ROE of 20% on an annual basis is likely to be achieved, but ADRs still look undervalued by close to 25% on returns I make. model. Similarly, stocks look over 15% undervalued in book value, even with an ROE estimate of 23 nearly 150 bps below the sell-side average.
The essential
There is clearly a disconnect between what Itau management forecasts for 2022, what sell-side analysts are modeling and what the market expects. While I think there may be more macro risk here than some of the more bullish projections acknowledge, stocks seem to ignore a fairly bearish outlook. Again, even though it's not my favorite bank in Latin America, it's hard for me to say that the shares shouldn't trade higher.