Investors and Buyers Play the Waiting Game in Credit Switching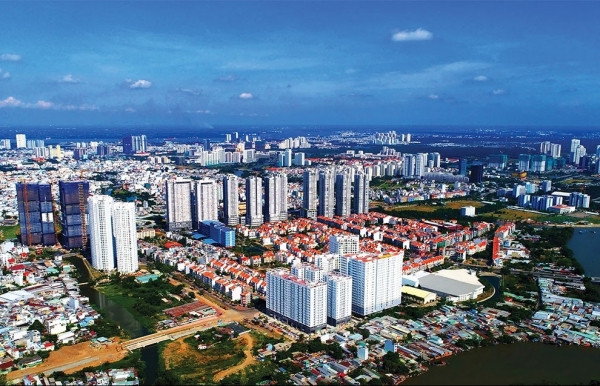 Earlier this month, the State Bank of Vietnam (SBV) adjusted the 2022 credit growth target for some institutions that had requested such a move. The adjustment of the credit limit is based on the assessment of the functioning of credit institutions and must also contribute to controlling inflation and stabilizing the foreign exchange market.
Among the banks with an increased credit margin, Sacombank was offered 4%, Agribank 3.5%, Maritime Bank at 3.2%, Vietcombank at 2.7% and TPBank at 1.2%.
The SBV said the opening of the credit room aims to facilitate the implementation of a 2% interest rate support program as well as to meet capital needs for socio-economic development and restoration of production and business.
Needing a loan worth around $43,000 from a bank to buy a house, Nhu Quang from the south-central province of Binh Thuan told VIR that after learning that banks were going to extend credit, he contacted his target commercial bank. He had been trying for months to apply for a loan. "The bank said I still have to wait longer because the detailed instructions have not yet been released," Quang said.
Similarly, Tran Thi Thanh from Thu Duc town in Ho Chi Minh City said his family bought a home for more than $100,000 and completed procedures for a bank loan of 60% of the value of the home. . Previously, some banks would not accept loans because they said they had no more line of credit. Last week, Thanh returned to these banks, but the bank still refused.
"The bank said their credit growth and disbursement remains under SBV's control and consumers like us who want to buy a house are still unable to get a loan," Thanh said.
Representatives of some banks have pointed out that the extension is in fact the SBV's redistribution of the credit growth limit within the remaining percentage of this year's target of 14 percent. However, the banks have been waiting for this for several months. Immediately after the information was released, many banks accelerated their review of previous loan applications.
Dynamic market
According to Hoang Van, an independent property expert, property prices have been pushed to a very high level lately. This forces buyers to wait and see, expecting a wave of reduction. In addition, the interest rate on deposits and the interest rate on loans from banks are also rising sharply, which worries investors and potential buyers.
"As a result, the real estate market is unlikely to be active immediately after the LOC easing takes effect. Instead, the real estate market will develop more substantially and sustainably. will flock to real estate segments with real needs and meeting homebuyer expectations," Van said.
Good quality real estate projects developed by reputable developers and affordable to customers can still have good potential for growth. However, according to Nguyen Hung, an individual investor in Ho Chi Minh City, this is simply an emotional factor of investors in the market.
"Government policy needs some time to be implemented. The line of credit extension has only been applied to a few banks, so it cannot help businesses and people in new sources of credit," Hung explained. "Furthermore, this room extension is not only for real estate but also for other industries, so the impact on the market is not substantial."
Insiders and pundits, however, insisted the move would bring good. Dr. Le Xuan Nghia, former vice chairman of the National Financial Supervisory Commission, said easing credit at this time was a wise move. "Maintaining monetary policy stability is the most appropriate decision by the executive agency at this time," Nghia said.
Experts from SSI Securities also said that easing credit can help business owners have more capital to pay debts and mature obligations, especially small and medium-sized businesses. Meanwhile, large companies that still have collateral for bank loans will be able to issue new bonds as well as borrow international bonds.
Vu Kim Giang, general manager of Hai Phat Land, said that the expansion of the credit room, although indirectly, will also have a very positive impact on the cash flow of real estate businesses and create room for redevelopment. of the market.
"The real estate market is expected to heat up again in the final months of the year as credit flows open up and companies release inventory," Giang said.
proactive need
Le Hoang Chau, president of the Ho Chi Minh City Real Estate Association, explained that the potential for short-term capital inflow is not too great, the main reason being that the banking sector has spent too much capital in the real estate in recent years. time.
"The current credit expansion may be just a psychological impact to help the real estate market recover a bit, but it is not enough to help the market accelerate. The low credit limit will not be enough not respond to the stock of loan applications, which will make it difficult to revive the calm market, "said Chau.
To create more conditions for the real estate market to actively develop, Can Van Luc, a member of the National Monetary Policy Advisory Council, said that in the context of macroeconomic stability and inflation control, the SBV can expand completely the line of credit for the whole of 2022 by 1 to 2% more. This means going from the target level of 14% to 15-16%.
"Doing this will have a stronger and more substantial impact on the real estate market, especially in the context where the market has been facing capital difficulties since the beginning of 2022, and the end of the year is also the period leading edge for the real estate market," said Luc.
He added that if the source of capital is not quickly cleared, companies will continue to face difficulties in implementing the project and customers will also find it difficult to access housing loans.
"As a result, the real estate market is illiquid, and the mutual debts of companies and the bad debts of banks will increase. This is extremely dangerous, not only for the real estate market but also for the economy as a whole," he added.
To solve the capital problem for today's real estate market, Luc said the most important issue for real estate businesses right now is to diversify their sources of capital.
"In addition to the three main sources of mobilization – bank credit, corporate bonds and home buyers – real estate companies must be flexible in mobilizing other channels such as private placement for strategic shareholders, l offering of shares to the public and existing shareholders, investment funds and other financial institutions," he added.
In addition to diversifying sources of capital, companies also need to improve towards transparency in establishing credit files and title documents, implementing covenants and strengthening risk management to address interest rate and currency risks that may arise, said Luc.
Source: VIR