Dereck Hoogenkamp on CoinGeek Backstage: We're Bridging Banking and Blockchain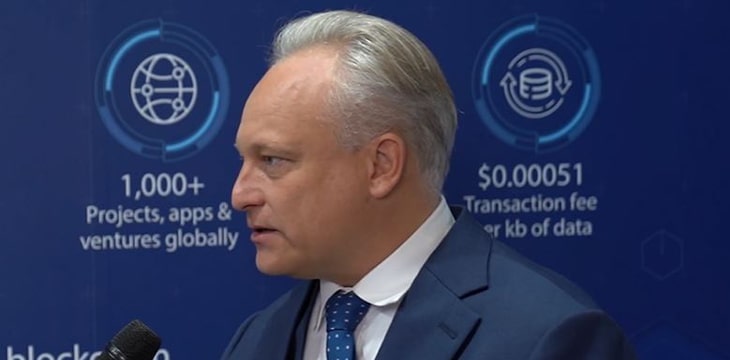 The traditional banking industry relies heavily on regulation, with banks being among the most strictly regulated institutions in the world. The world of digital assets is built on decentralization and disintermediation. Dereck Hoogenkamp brings these two together, and as he told CoinGeek Backstage, he believes he can get the best of both worlds.
The chairman of investment and private equity firm Yalla Limited told CoinGeek's Becky Liggero that he is combining banking and blockchain through his company.
"You can see that big institutions and banks can't really enter this digital world, this new economy," he told CoinGeek Backstage on the sidelines of AIBC Dubai.
Hoogenkamp's company understands how stringent banking regulators are and as such is fully compliant. It has licenses to offer custody, escrow services, PSP services, exchange services, credit card systems, insurance coverage, stablecoins backed by physical US dollars which are audited live, and more.
"We have all of these elements on one platform, and it's something no one has done before," he noted.
Hoogenkamp, ​​who is a big fan of the metaverse, also spoke about the rise of Dubai as a blockchain hub. The city has become a global destination for all things blockchain, including hosting some of the biggest events in the space, most recently the BSV Global Blockchain Convention. Additionally, the city has integrated blockchain into its utility and systems on a scale that no other city in the world has achieved.
" This is completely crazy. Everyone moves here. Dubai is the new blockchain and crypto hub," he observed.
According to Hoogenkamp, ​​Dubai's rise to the top is no accident. After all, the city has been working for quite some time to attract the tech world, and its rise is just the fruit of its hard work, he told CoinGeek Backstage.
As CoinGeek reported, Dubai's rise is a combination of factors that include heavy investment in blockchain initiatives by government and the private sector, as well as the enactment of enabling laws.
Watch: Highlights from AIBC Dubai 2022: Akon, play to win games and use blockchain technology to do good
New to Bitcoin? Discover CoinGeek bitcoin for beginners section, the ultimate resource guide to learn about bitcoin – as originally envisioned by Satoshi Nakamoto – and blockchain.