Barriers stand in the way of mobile money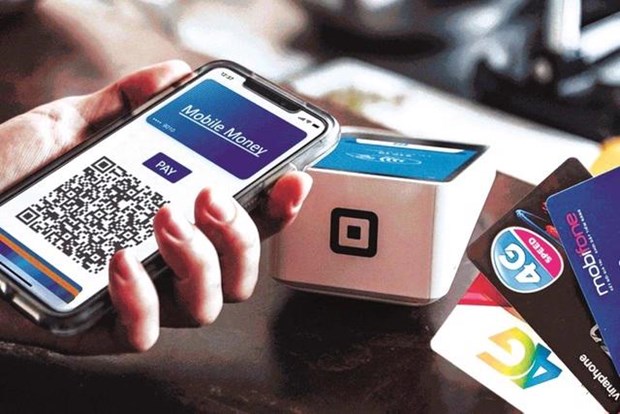 Mobile Money (MM) has not gained much popularity in the country among mobile phone users due to several shortcomings.
A subscriber uses Mobile Money via his smartphone. (Photo: kinhtedothi.vn)
Nguyen Son Hai, Deputy Managing Director of VNPT Media Corp., pointed to MM's monthly transaction limits of VND10 million ($437) as a major drawback discouraging customers.
He said the limits were relatively low, leaving not enough wiggle room for personal expenses, including monthly bills and day-to-day expenses.
In addition, MM generally performs the same function as an electronic wallet, but the former is not linked to a bank account like the latter.
The absence of such a link is a disadvantage for people who frequently make payments through bank accounts.
Another downside is that money from MM accounts can only be transferred to other accounts in the same network, as cross-network transfers are not available.
Bui Son Nam, deputy general manager of MobiFone, pointed out that the MM subscription requires a new version of ID cards.
Unfortunately, many people use old cards to subscribe to mobile phone services.
This means that these subscribers must visit the business premises of the network operator to update their personal information if they opt for MM. Such requirements put off many mobile phone users.
The deputy general manager also said that internet banking, QR codes, e-wallets and many other payment methods have taken the lion's share of the market.
Notably, more than 70% of adults in Vietnam already have bank accounts, making it harder for a newcomer like MM to gain traction in the market.
According to the Ministry of Information and Communications, Vietnam has only 588,000 MM subscribers so far, accounting for 0.47 percent of the total number of mobile phone users.
While Viettel introduced MM in December 2021 with 402,000 subscribers, VNPT launched it a week earlier with 200,000 subscribers.
Nguyen Truong Giang, general manager of VinaPhone, said MM is a new payment method, so the service provider is rolling out the system very carefully.
He also said that MM subscribers are currently only a tiny fraction of the total number of VinaPhone subscribers.
However, there is ample room for growth once MM facilities, including acceptance points, expand to a certain point.
"We believe that once MM coverage gets big enough in the third quarter of this year and subscribers get used to the money, the MM market will start to skyrocket," the chief executive said.
MM is currently undergoing pilot programs that service providers must run for two years. The results of the projects will serve as the basis for the official regulation of the currency in Vietnam./.
Source: VNS