5 Innovative Core Banking Companies in the Americas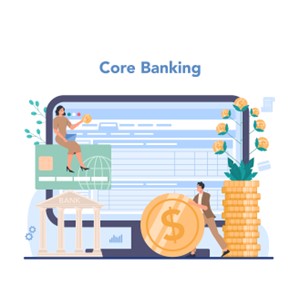 By Edlyn Cardoza
November 14, 2022
Compliance
Financial institution
Financial services
Today, the bank has grown considerably as a business. It continues to transform from a deposit and lending space to an institution offering a set of products and services. All services initiated by a bank are called Core Banking.
CORE stands for "Centralized Online Real-time Exchange", which allows bank branches to access applications from centralized data centers. Core banking also extends to the needs of corporate clients and not just retail banking clients, thus offering a complete banking solution. Core banking software is a centralized system that banks use to maintain consistent workflows for all processes. The system brings the financial well-being of the customers by providing an error-free experience.
Seeing the rise of major banking software vendors, here are 5 companies that are revolutionizing banking in the Americas:
FIS is at the heart of the commercial and financial transactions that fuel the global economy. They are passionate about helping businesses and communities thrive by advancing the way the world pays, banks and invests, serving more than 20,000 customers and over one million points of sale. in more than 130 countries. FIS stays ahead of the way the world is changing to propel merchant, banking and capital markets businesses to outpace today's rapidly changing competitive landscape and help their clients manage, grow and achieve more for their business.
Fiserv, Inc. is a leading global technology provider serving the financial services industry, driving innovation in payments, processing services, risk and compliance, customer and channel management, and than commercial information and optimization. Signature is an innovative and comprehensive customer-centric banking solution that enables your organization to adapt and adapt to meet changing demands. Signature serves the account processing needs of large financial institutions and those that require custom solutions to meet specific business needs. The solution offers consistent customer information across multiple delivery channels, streamlined business processes, and the ability to mitigate risk.
Jack Henry is a well-rounded financial technology company that strengthens the connection between people and their financial institutions through technology and services that reduce barriers to financial health. They offer one of the most dynamic, comprehensive, scalable and customizable growth options and an intuitive omnichannel experience as a core platform provider. Major platforms use cloud solutions to meet capacity. Jack Henry's leading banking platforms leverage cloud solutions to reduce IT loads and recruit dedicated IT employees while reducing your operating costs and risk.
nCino is the world leader in cloud banking. In its digital world, the nCino Bank operating system provides financial institutions with scalable technology to help them increase revenue, increase efficiency, reduce costs and comply with regulations. As a secure, cloud-based solution, nCino Bank's operating system empowers bank employees and executives with a true view of banking through an end-to-end platform that spans industries business and combines customer relationship management (CRM), customer onboarding, account opening, loan origination, deposit accounts, workflow, credit analysis, enterprise content management and instant reporting capabilities. nCino integrates with central and transactional banking systems while replacing point solutions and manual processes.
Oracle is a cloud technology company that provides organizations around the world with IT infrastructure and software to help them innovate, unlock efficiencies, and become more effective. They also created the world's first – and only – self-contained database to help organize and secure their customers' data. Oracle Cloud Infrastructure delivers superior performance, security, and cost savings. It is designed so that enterprises can easily move workloads from on-premises systems to the cloud and between the cloud and on-premises and other clouds. Oracle Cloud Applications provide business leaders with modern applications that help them innovate, achieve sustainable growth, and become more resilient.
ALSO READ: Global Report on Major Banking Service Providers and Landscape Q3 2022
Previous post
Viva Wallet and Klarna expand payment options in Europe
Read more